Customers rely on precision machines from Synergy Machinery Sales!
"When demand for our guitar products began outpacing our ability to manufacture them, turning to Synergy was an obvious choice. Brian Ferguson's applications knowledge and support have been unparalleled in our experience. He recommended a Hanwha XD20H that shaved off an average of 5 operations and 80% cycle time per part, allowing us to meet production demands and tighten our tolerances. Brian even came back several times after the sale to help us with some difficult programming challenges. Synergy is more than a sales group, they are part of our core team."
Dave and Josh Borisoff
Hipshot Products, Inc.
Hipshot owners Dave Borisoff (right) and son, Josh, in front of their Hanwha XD20H CNC turning machine.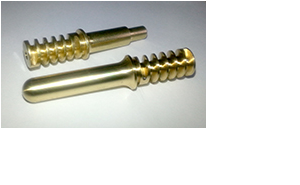 Extender worm gear machined
on the Hanwha XD20H CNC lathe.
Extender key assembly used
to "drop tune" a bass guitar.
Hipshot Products, founded in 1983 by Dave Borisoff in Van Nuys, CA, is one of the last American guitar companies that not only designs but manufactures high-quality bass and guitar hardware. Since moving operations in 1994 to Interlaken, NY, Hipshot has grown into a 25-employee company, manufacturing and shipping guitar parts worldwide to such companies as Tobias, Sadowsky, Lakeland, Roscoe and others. Large contracts have also been with Peavey, Fender, Cort and Yamaha, making them a serious contender in the global marketplace.
Hipshot Products web site - www.HipshotProducts.com